Flat in Portimão for your vacation
We offer for rent a studio in Portimão in the south of Portugal in the Algarve region.
We believe that you will fall in love with the Algarve as well, it is a wonderful destination. We look forward to you!
The apartment is located on the 6th floor, in a house with 2 elevators. The balcony has a beautiful view of the city and the river Arade. In the morning you can enjoy a beautiful view of the sunrise.
The apartment has a fully equipped kitchen, so if you are interested, you can cook. There is an electric stove with oven, refrigerator with freezer, microwave, kettle, dishes, television, etc.
The apartment has a free wifi, so it is possible to use the apartment for a holiday associated with possible work from home.
The bathroom has a washing machine, shower, hairdryer, bidet, etc.
Bath towels, towels and bed linen are also provided.  The apartment also has enough storage space (wardrobe, chest of drawers).
A clothes horse is also provided
The flat is suitable for 2 people.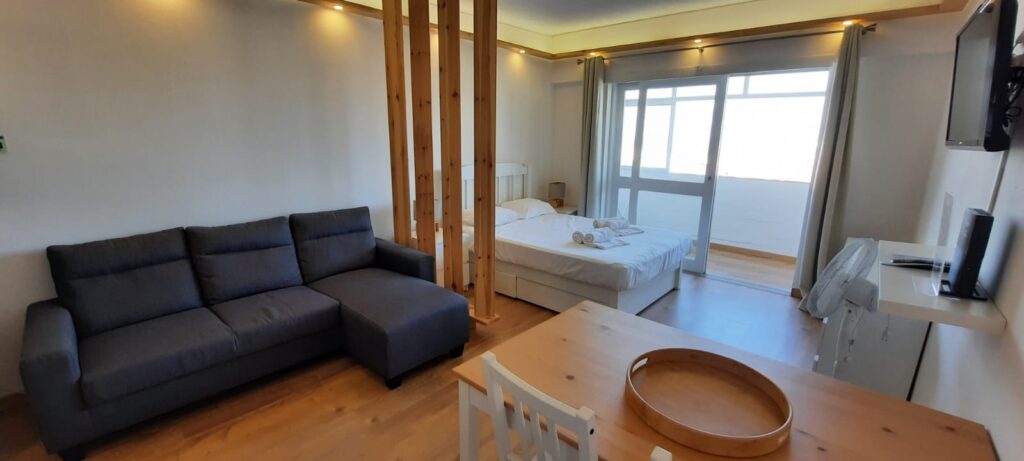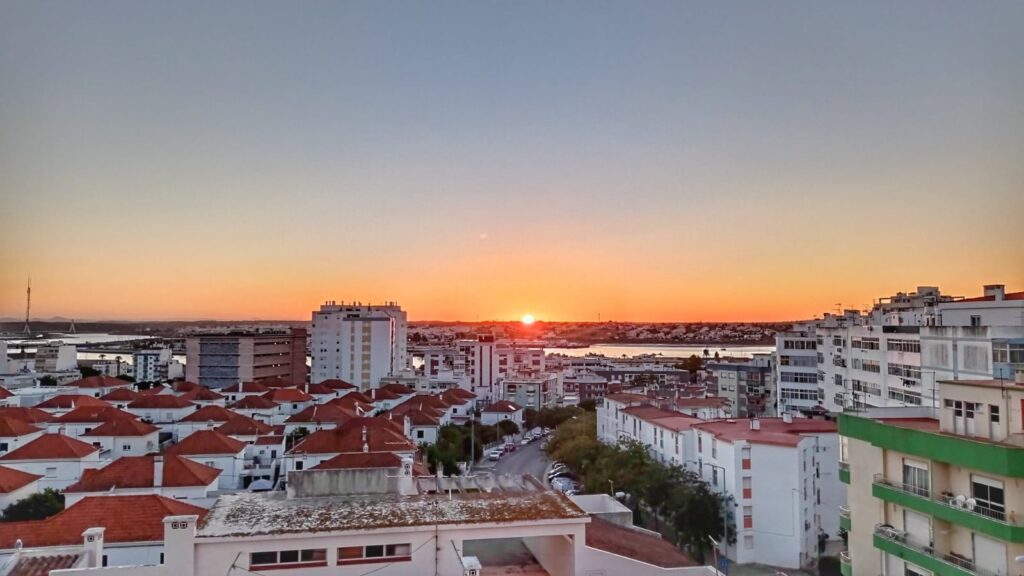 The prices above for night apply for stay of minimum 7 nights
Minimum 5 nights in low season, 7 nights in high season
For stay shorter than 7 nights the prices are a little bit higher
Parking
Free parking anywhere in front of the house. There is no problem with parking, we have never had a problem to find a parking place.
Location
Our apartment is located in Portimão, which is a small town with about 50,000 inhabitants, located about 1 – 1.25 hours from the airport in Faro (on the highway it is a bit faster). It is an ideal location for exploring the whole region of the Algarve, as it is located approximately in the middle of the coast, where you will find the most beautiful beaches and hiking trails from all over the Algarve.
It is an apartment on Rua dos Lusíadas, Edifício Os Gemeos, about 500 meters from the center and 1.7 km from Praia da Rocha beach and 2 km from other beautiful beaches. This is the ideal distance, in the Algarve it would be a pity to spend a holiday on one beach, so there is no need to be a few meters from the beach and I recommend to explore the whole coast. It is therefore an ideal location, close to the beach, the center and a short walk from the beautiful promenade by the river Arade, which is much calmer and more pleasant for evening walks than the promenade by the beach, where there are quite a lot of tourists (in high season). However, if you like rather busy places, you can also enjoy evening walks along the promenade at Praia da Rocha beach, where you will find plenty of restaurants, bars, souvenir shops and you can enjoy views of the beach and cliffs.
Our apartment is located here – https://mapy.cz/s/hasufazume
Reservation
Please write me for reservation on my email: lenkacestounecestou@gmail.com or write me a message on my fb page – https://www.facebook.com/lenkacestounecestou
Arrival and departure
Check-in
You can make a check-in from 15:00 on the day of arrival.
The agency will give you the keys and provide you with all the necessary information.
Check-out
Check-out has to be done the last day by 11:00.
Refundable deposit – 100 EUR (the deposit for any damages is paid in cash on arrival and will be refunded in cash on departure, after checking at check-out there is not any damage)
Parties and events are not allowed.
Pets are not allowed.
Service for free
If you are interested, I will be happy to advise you on the itinerary with regard to the length of stay and whether you are planning to spend time on the beaches or do hikes/ walks along the coast or a combination of both or boat trips or other attractions in the area.
Near the apartment you will find all civic amenities (restaurants, supermarket, hypermarket, fruit/vegetable/fish market, bakery etc.)
Restaurants
The apartment is located near restaurants at reasonable prices (it is not a problem to find a restaurant where food costs 8-10 EUR, close to our house there is also a restaurant where food for take away costs only 5.50 EUR)
Shopping
Also shops are very close, hypermarket Continente just 300 meters from the house, Lidl 700 meters and Pingo Doce 600 meters.
Mercado Municipal – I recommend visiting the Mercado Municipal market, which is located about 900 meters from the apartment. You can buy fruit and vegetables here at good prices and there is also a fish market.
Bakery – you can also have a fresh pastry, it is located right behind our house – http://www.paodavomaria.com/
Shopping center – Aqua – a large shopping center can be found in the northern part of Portimão – https://g.page/AquaPortimao?share 
Also the Hospital do São Camilo, where they do Covid tests is very close to the apartment (if you need a covid test before returning to your home country)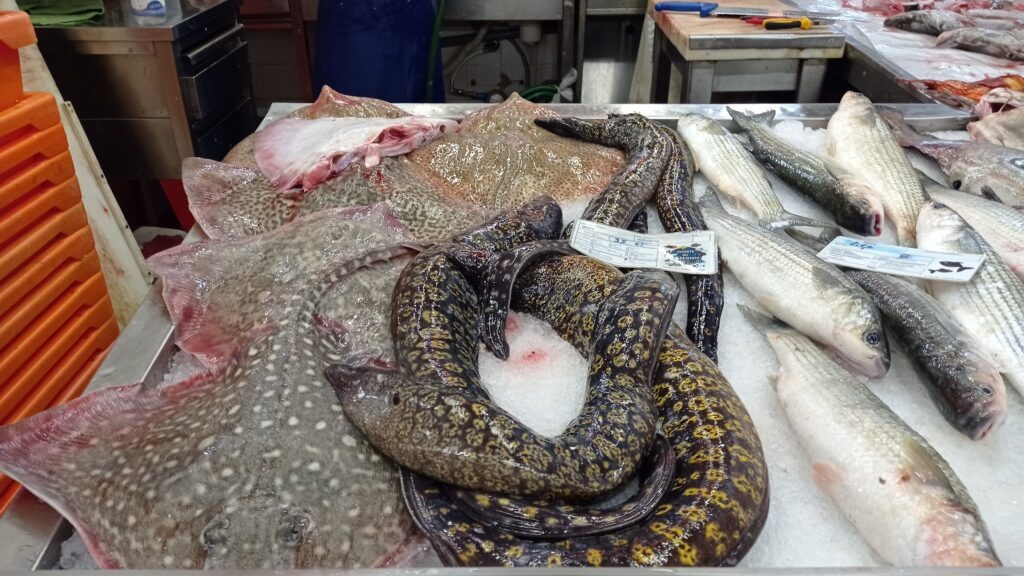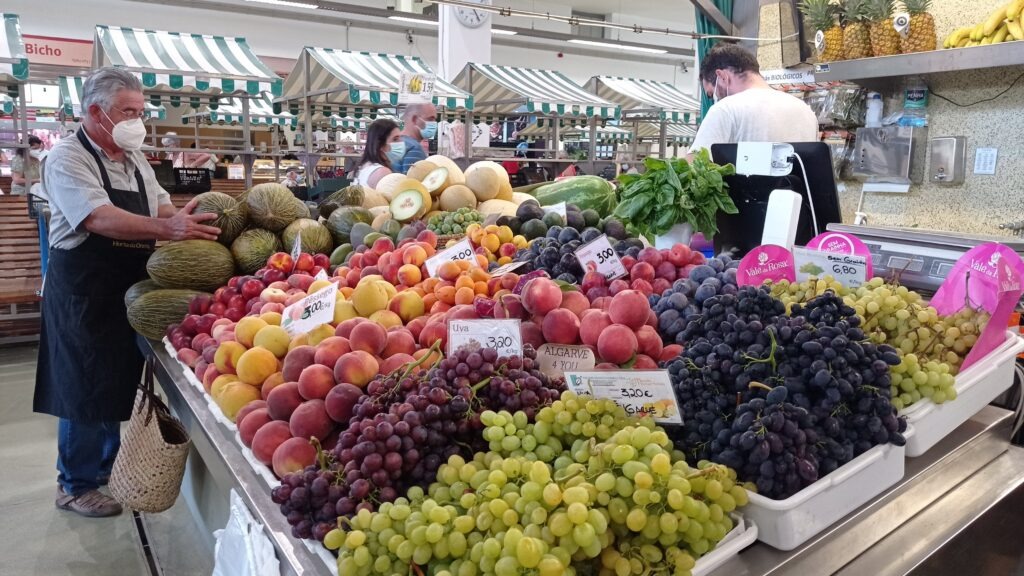 Transport
Car rental
The easiest option is to rent a car directly at the airport, I recommend car rental Drive4fun.
Buses
If you don't want to rent a car, no problem, there are 2 lines to the beach and bus stops at each beach. And for city center you don´t need a car to the center, it is very close on foot. If you want to visit other locations and beaches in the area, Portimão is an ideal starting point for both bus and train travel.
There is a bus from the airport in Faro to the center and from Faro to Portimão you can get by bus or train. 
Why visit Algarve?
You will find really beautiful beaches with beautiful rocks and caves. You will find both small beaches where you will be almost alone and larger beaches as well, so really everyone can choose here.
Beautiful walks on the beaches, breathtaking sunsets, swimming in the ocean in summer (it depends, but the ocean is not always cold, this summer it was about 24 ° C.)
Beautiful hikes along the coast with breathtaking views of the ocean and rocks, beaches and caves
Picturesque towns with narrow streets, where you will find beautiful flowering bougainvillea, houses with typical azulejos, excellent restaurants, fortresses, etc.
Other attractions such as Sand city (beautiful sand buildings), water parks, salt pans and the "Dead Sea" near Faro
Boat trips along the coast, dolphin watching, boat trips with a visit to the caves, kayak trips or boat trips on the Arade River
Great food at reasonable prices
We look forward to your visit 🙂
Please follow and like us: